The Person of Peace and Their "Oikos"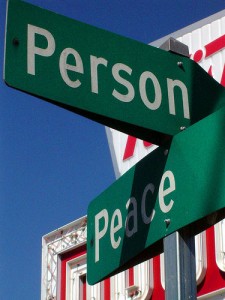 When it comes to sharing our faith in wisdom, it is vital to understand a couple of concepts, the person of peace and their "oikos".  I've known and used the person of peace approach to evangelism for some time now.
I was recently talking with Linda Bergquist a church strategist in San Francisco and she was telling me that origins of the idea of the person of peace can be traced back to Dr. Thom Wolf, Mission Professor and Gold Gate Theological Seminary, and founder of Church on Brady, currently named Mosaic in Los Angeles, led by Erwin McManus.  The person of peace concept has been popularized since by a number of people, including Bob and Mary Hopkins and Mike Breen.
Thom Wolf gives us a "sticky" way to think about the person of peace.  First, take a moment to read one of the key passages on this topic, Luke 10:1-12.  There are three ways to describe a person of peace.
First, they are a person of receptivity (Luke 10:6). People of peace are people whom God has been working in before we even meet them. This approach to evangelism is all about recognizing where God is at work and joining him in the process.  It is based on the missionary nature of God.  Cornelius and Lydia are some examples that we see in the book of Acts.
Second, they are a person of reputation (good or bad).  The demoniac is an example of this.  In Mark 5, Jesus begs to go with him, but Jesus sends him back to share with others.
Third, they are a person of referral (Acts 16:6-34).  In other words, the person of peace is influential with a web of relationships in which they invite you to influence.  When you take this approach to evangelism, you want to consider not only what God is doing with the person of peace, but what the Spirit is doing among the person of peace's oikos, their extended relationships.  The greek word oikos literally means household, in the past it typically involved a persons extended family and servants.  Today you can think about it as someones primary web of relationships. The story of the Philippian Jailer in Acts 16:31-34, how he and his entire household came to faith is an example of this approach to evangelism.
With the person of peace concept in mind, let's move to the octagon, as developed by Bob and Mary Hopkins in their ebook Evangelism Strategies.  Here is my summary and reflection on working with the people of peace and their oikos.  Refer to the diagram as I work through the basic concepts.
PERCEPTION
When walking with the person of peace and their oikos, you first want to perceive where the person and their web of relationships are at spiritually.  How close are far away are they from God?  How hungry or thirsty are they? How fast or slow is the person of peace and their oikos moving toward the Lord?  These questions help us perceive how God is at work.
PASSING OR PERMANENT
The next thing you want to consider is: Is this person in a passing relationship or a more permanent one? In other words, the other day I met a person of peace on my plane ride to Miami. This was someone I had a passing relationship with. But upon further conversation, I found out he was from Northern Virginia, close to where I'm living now, so because we exchanged numbers, our relationship may become a more permanent one. The reason this might be important is because the nature of the relationship we have with the person of peace and their oikos will shape our approach.
PROCLAIMING AND PRESENCE
In other words, depending on the guidance of the Spirit, we can engage passing relationships in a more forward way than our permanent relationships. God has likely put this person in our life so that we might plant some seeds of truth in them, that we might proclaim the good news to them. On the other hand, those we are in a more permanent relationship require our presence and actions. In this approach, it is important for us to love them till they ask us why. While this is the general approach to passing and permanent relationship, we need to grow in wisdom in discerning what and when God wants us to share the good news, because faith comes by hearing and hearing the word of God.

POWER AND PREPARATION
When it comes to our passing relationships, we should be open to what John Wimber called "power" evangelism. This is where we ask God to intervene in a dramatic way through things like healing prayer, a prophetic word, Spirit inspired dreams, answered prayer in regard to a crises in their life. We should seek to see God's power work within our permanent relationships as well, but with passing people, we want to leave them with a sign of God's desire to bless them and be in relationship with them. With our permanent relationships, our approach would be to partner with God and till the soil and plant seeds, to prepare the person of peace and their oikos to hear the good news at the proper time. This would be more of a process, like an Alpha course, or hosting a six week study on Jesus.
The octagon is an important way to understand a general approach to people of peace and their oikos. While our general approach to passing and permanent relationships are different, there are always exceptions, thus we must depend on the guidance of the Spirit in everything.
6 Responses to The Person of Peace and Their "Oikos"