From Indonesia – Some Current Highlights of My Trip
God has given me the opportunity to visit 34 countries, but this was my first time I had a chance to visit Indonesia. Indonesia has the fourth largest population in the world, after China, India and the USA with 238 million people scattered among over 17,000 islands.  Most of the people (138 million) live on Java Island. I have been hosted by and amazing family in Surabaya, Adjie and Herlina Chen parents of my friend Michael.  They have a beautiful place.  Surabaya was the first city I had a chance to visit.
While in Surabaya, I had the chance to meet a lot of great people. I had some amazing sate at the G Walk and some fried duck at the food festival in East Surabaya.  I also had the opportunity to speak at Alfa Omega Church.  I enjoyed meeting and hanging with Lukas, Ezra, Elijah and Elisa Soetopo, the leaders of the church.
The second stop for me was the city of Yogyakarta (Jogja for short) What a beautiful city, there are mountains, a volcano, great food, a lively downtown, the sultan's palace, and these cool three wheel bike taxi's called becak were cool to ride.
The best thing about visiting Yogyakarta was being able to visit Deni, the kid I sponsor through Compassion International.  Being able to spend an entire day with him, seeing his life, his home, meeting his friends and the compassion workers was one of the best days of my life.  I took him shopping for some new clothes and some food.  Then we visited a site or two, rode on the becak's and visited his father (only remaining parent) at their home.  While Deni lives in the slums, through Compassion he is able to eat well, gain help with school and be involved in a thriving local Christian church.
After having a day hanging together, I was asked to speak at the men's bible study, where Deni and some of his friends came as well.  God used that time in great ways.  The driver that had taken us around all day was actually the pastor. That was a cool surprise.  Then after taking a number of the kids and staff to a Thai restaurant, I brought them to swim at my hotel pool.  They absolutely loved the time, as did I.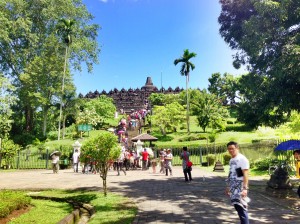 The next day the owner of the hotel we stayed at (The Rich Hotel), took a few of us to the Borobudar Temple in Central Java, which was built in the 8th and 9th century. We also visited Mount Merapi, an active volcano, which erupted in 2006 and 2010.  We then had some amazing lamb.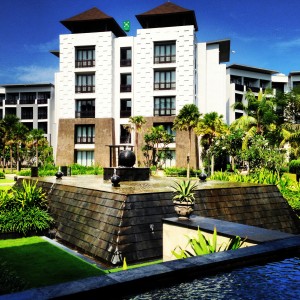 This morning we flew to Bali, and now I'm heading out to the beach for a swim.  My host has been so wonderful.  We are staying at Pullman in Bali.  An amazing place. I'm planning on doing some surfing, swimming, eating and meeting new people.  Should be a great time.
I will leave to go to Jakarta on Saturday night and will be preaching at two different churches on Sunday morning.  I'll be preaching at Gracia Community Church at 9:30 a.m. and City Light Church at 11 a.m.  If you live in the area, please drop by.
4 Responses to From Indonesia – Some Current Highlights of My Trip