The Art of Parish Renewal – Inhabit Conference 2013, Seattle WA
I'm totally stoked to participate in this years Inhabit Conference, which is taking place in Seattle, Washington on April 19th & 20th.  Inhabit is about practice, presence and place.  It's about the transformation of the places we live, the neighborhoods we inhabit.  Its about a theology of place, and a place to connect about theology.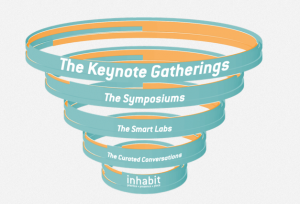 One of the beautiful things about Inhabit is the flow of this gathering.  There are the keynote gatherings which combine liturgy, art, music, and the spoken word by some of the most imaginative practitioners.  There are symposiums, which are participatory, out-of-the box presentations oriented around practical change and idea-creation.  There are smart labs that involve focused dialogues, simulations and experiments on specific place-related issues with seasoned practitioners.  And there are curated conversations, which give multiperspectival viewpoints and adaptive solutions to real issues.
Some of the things I will be doing includes a lunch conversation on Friday, April 19th on Church Planting & Parish with Ben Katt.  As well as a symposium on Shared Leadership in the Neighborhood that same Friday at 2 p.m.
I'm excited to go to Inhabit this year, just to meet up with and have the opportunity to hang with my fellow presenters (some of them pictured below) as well as the very engaging participants who will be coming (like you).  If you want to come to this event at a discounted rate, please let me know by leaving some contact information, and I will help you get there at some savings.  I hope to see you at Inhabit 2013.  I believe there are less than 50 spots left, before the event is sold out, so sign up soon!