LA 2012 – A Larger Story – This Weekend: October 19th & 20th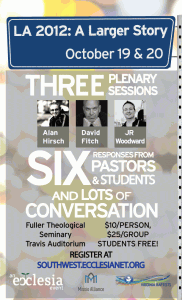 LA 2012 is just around the corner.  Registration is still open.  Here is a short description of the event. Does the church need a revolution?  Or does she need to evolve and rebirth herself in our current context?  It's an important debate.
Ivan Illich reminds us that change doesn't come about by revolution or reformation, but by an alternative story. Alan Hirsch makes that case that if we want a permanent revolution we need to move beyond the limited pastor/teacher approach to leadership. We need a larger story.
If we want to create a missional culture, JR Woodward suggest a change in the ethos of the church, requires a change in our approach to leadership, from hierarchical to polycentric. We need a larger story.
And when it comes to the doctrines of missio Dei and incarnation, David Fitch believes that they have often set us off on individual journeys of mission that leave us exhausted. He would like to lay out a way that these doctrines ought to change the way we live together in mission, by providing a larger story.
LA 2012 will include three plenary sessions, six prepared responses from local pastors, leaders and students, and plenty of time for dialogue. I will give some updates daily till the event.
Date: Friday, October 19th – Saturday, October 20th
Place: Travis Auditorium, Fuller Theological Seminary, 135 North Oakland Ave, Pasadena, CA 91101.
Cost:  $10 per person, $25 for any size group, FREE for students.
Learn more about the event and register here, and be sure to let us know on our facebook page that you are coming. I'll share more about the various speakers each day this week.