How to Set Up Facebook Timeline
[Update] The facebook timeline rolls out worldwide today after many delays.  Once you upgrade, you have seven days to work through your timeline. Here is some help for you in how to set up facebook timeline.
Facebook seeks to transform the profile page "from a static listing of data – such as city, birth date, school, workplace, hobbies and interests – into Timeline, a more engaging, constantly updating, eye-catching 'digital scrapbook'". According to the San Francisco Chronicle (which has a great intro on timeline) "each member will have five days to 'curate' their Timeline before it goes online to find the content they want to highlight, or weed out material to hide." I've been playing around with it since last week.  I'm enjoying timeline, in that this particular month I'm focusing on reflecting on the last 20 years of my life, so it gives me a chance to fill in some of the events of my life that have been important to me and a place to review the aspects of my life I choose to make public.  I imagine some people will hate this change for various reasons, some just because it is change.  But I think many will love it.
COVER
The first thing to do is design a cover for your facebook. The cover is the first thing people see, so be creative. Some people put beautiful pictures, others feature their calling or area of expertise and some are just outright creative and fun. Mashable featured 10 facebook timeline designs yesterday worth looking at. Below are a couple of my favorite.
Here is a look at one of my timeline covers.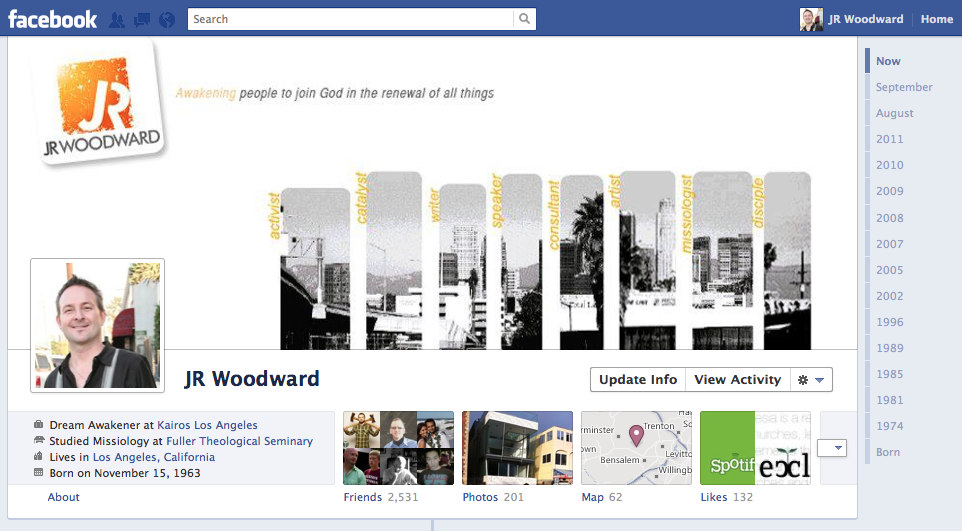 The specks for the facebook timeline cover is 851 by 315
AN INTRO TO TIMELINE
Here is a minute and a half video to get an overview of timeline.
FILLING IN YOUR TIMELINE
After designing your cover, take some time to fill in your timeline with special times and events in your life. It could be special places you traveled, or monumental events that have shaped who you are, or just fun times you want to remember. You could mark when you bought your first car, or when you came to faith or got baptized. It could be deep events or just crazy times.

To help with this, at the top of the timeline you will find five different icons, just right of the status, photo and place buttons. The suitcase represents "work and eduction", the heart "family and relationships", the house "living", the apple "health and wellness" and the flag "milestones and experiences". As I take time to reflect this next month, I'll be adding different events. Here are three events I've added.
This first one is when I came to faith in Christ.  The cool thing is that when you talk about events, you can also link to various websites.  So on this event, I link to the Good New Series – fifty different posts on the Good News.

Here is a post remembering the time a bunch of us moved to Hollywood, back in the summer of 2002.
And this is remembering my first trip to Kenya.  I've been a total five times now.  Again, I was able to add a link to the Solis Foundation, which I co-founded, to help people be aware of ways they can walk with the poor.
SHARING YOUR LOCATION
Common to all timelines on the top below your cover is a place for friends, photos, maps, likes etc.
When it comes to maps, it shows the different places you have visited. This shows the places I've check in this last month.


Here is a short video that shows you how to share your location and let people know where you are at and where you've been.
APPS
Here is a good article about a new class of social apps for the redesigned timeline. Gamers already collaborate when it comes to games, but now you are able to share the music you like listening to (spotify), the films you like (netflix), races you run (nike), restuarants you visiting (foodspotting). Of course many apps already link to facebook like Yelp, which if you set them up to pop on facebook they will show up on your timeline along with adding them to your map.  I've enjoyed spotify this past week, as I have been able to learn more about some of my friends through learning about the music they enjoy.
PRIVACY
While everything I post on the internet I consider public, if you are concerned about privacy issues, here are five steps to protecting your privacy online that you might find helpful. Now on to how to use facebook timeline.
WHAT YOU SHOULD KNOW
Facebook Timeline: 9 things you need to know  from USA Today
I hope you enjoy facebook timeline as much as I have been enjoying it.
4 Responses to How to Set Up Facebook Timeline