New Testament and Mission – An Analytical Report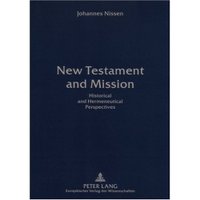 THE AUTHOR
Johannes Nissen serves with the Faculty of Theology at Aarhus University in Denmark.  He is a researcher, lecturer and has had numerous books and articles published in many areas related to mission and the New Testament including Matthew, Mission and Method and Mission and Globalization in a New Testament Perspective.
THESIS
In this book Nissen contends that the New Testament "contains not one, but several models for mission" (157). This perspective is necessary because "the diversity of thought within the Bible reflects the diversity of God's actions in different historical situations and the diversity of human responses to God's actions" (17). He demonstrates that the different theologies of mission "form a multicolored mosaic of complementary and mutually enriching as well as mutually challenging frames of reference" (17).
OVERVIEW
After laying out his thesis, Nissen takes us on a ride through the New Testament to show us this multicolored approach to mission.  At our first four stops he demonstrates different ways that each of the gospel writers approach mission.  Matthew sees mission as disciple making; Mark as crossing boundaries; Luke as jubilee; and John as incarnation.  He then looks at Paul's motivation for ministry and his ability to adapt his methods to his context.  After this, Nissen looks at Ephesians to discuss how ecclesiology relates to missiology, and how both Colossians and Ephesians witness to the powers that be.  He takes us through the remainder of the New Testament books, focusing on how I Peter encourages a witness of hope, while Revelation calls for a prophetic witness.  Then he concludes by interacting with "the problems that arise in the encounter between the New Testament and our modern experiences" (157).
MY THOUGHTS
In this book, Nissen demonstrates his expertise in the New Testament, hermeneutics and missiology.  His understanding pours out onto every page with rich quotes and deep insights.  While he contends for freedom in our approach to mission, based on context, he also gives the important reminder that "these options are never neutral.  Every methodology illustrates or betrays the Gospel we announce.  In all communications of the Gospel, power must be subordinate to love" (31).
His emphasis on mission in Christ's way is refreshing.  He calls us to take up our crosses and follow Christ by replacing a "crusading mind" with a "crucified mind" (31). He states that Matt. 28 must be read in light of Matt. 4:1-11 and is to be "understood not as a mandate to an aggressive militant mission… but as an invitation to follow Jesus in mission."  He says, "Mission, then, is not to be imaged as a "conquest" (winning the world for Christ), nor at a "sale" (selling the gospel), but as light which illuminates the darkness or as salt that gives savour" (31,32).
Nissen is able to take the various insights from the scripture and apply them to the current challenges we face today.  His insights on incarnation and contextualization, the gospel and culture, and how to dialog with other faiths, are worth returning to again and again.  I have underlined and starred so many things in this book, that I feel called to study it when times permits.  This book enabled me to appreciate the dynamic relationship between text and context and took me to a new level of freedom in regards to methodology and mission.  Throughout this book, Nissen transforms a black and white world into a world with vibrant colors.
3 Responses to New Testament and Mission – An Analytical Report